Enjoy great music between the olive trees on the mountain
Our Vlatos Jazz World Music Festival is a yearly series of concerts performed in the Vlatos Music Hall. The Vlatos Music Hall is a 150 year old building that was made as a church but was never inaugurated as such. It is a acoustically superb space where we present local and international artists.
Discover Vlatos Jazz
Our curator Maria Manousaki
Vlatos Jazz would not be possible without the knowledge and network of the beautiful and world renowned Maria Manousaki, our curator since 2018. Maria provides all the local and international artists on our program. She lives in New York and Alikianos on Crete.
Atmospheric concerts
The Vlatos Music Hall was build in 1889 as the new church of our village. Unfortunately the domed roof was made to heavy and pushed the walls out so it collapsed before the church was ever used. This situation remained for over a century. In 2005 the village decided to protect the building by giving it a new roof. After that it was used for the storage of all items from the school during the renovation of the old school building in 2013. Because of its wonderful acoustics the building is now used for the Vlatos Jazz World Music Festival.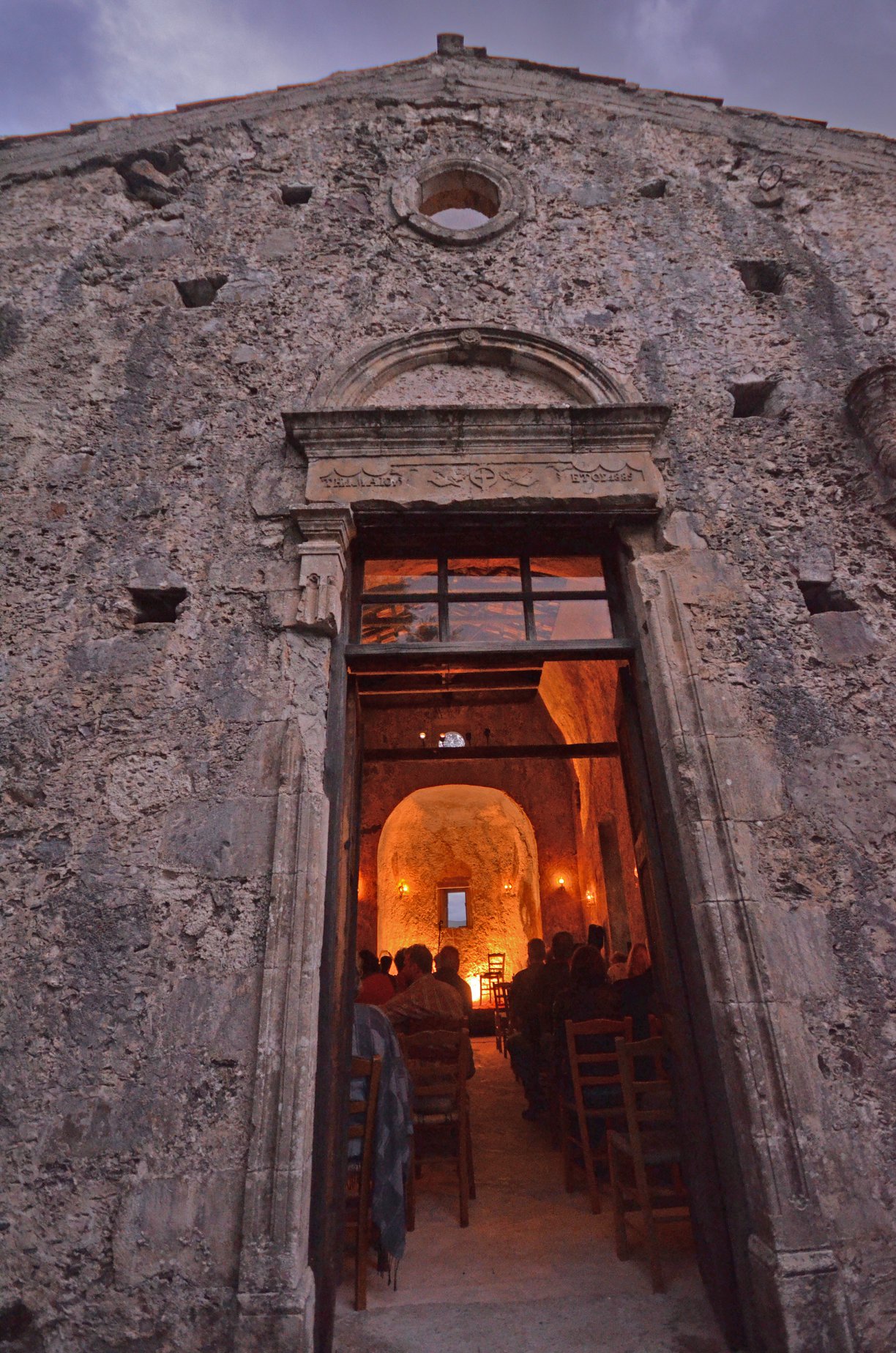 Local delicacies
Before, during and after the concerts we serve local delicacies. Drink our own Romeiko wine or sample some of the Tsikoudia we make just before winter. You can taste some of the seasonal fruits or vegetables like chestnuts, olives, apples or cucumber. In summer we grill some meats and breads to make the whole experience complete.
Reviews of people who went to Vlatos Jazz
Giorgos Giorgilakis




Business owner

Unique musical experience in a space with great acoustics. A ritualistic place right next to the village folklore museum

Business owner
Despina Fostiropoulou




Hospitality manager

Excellent acoustics and exceptional artists in an historical building compose a mystical atmosphere which will satisfy the most intellectual friends of music

Hospitality manager
Oscar Antoli




Artist

Amazing place, great acoustics and very nice people

Artist
Zoran Pavlevicz




Restaurant owner

If Vlatos has jazz it's not "just a village" anymore

Restaurant owner