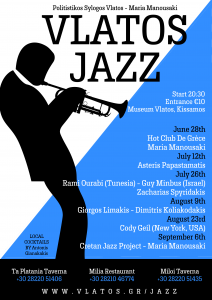 BPAΔIA TZAZ – Vlatos Jazz 2018
ΞEKINΩNTAΣ AΠO TIΣ 28 IOYNIOY KAI KAΘE ΔEYTEPH ΠEMΠTH ΣTIΣ 8:30 M.M. ΣTO ΓPAΦIKO XΩPIO BΛATOΣ O ΠOΛITIΣTIKOΣ ΣYΛΛOΓOΣ ΠAPOYΣIAZEI ΣE ΣYNEPΓAΣIA ME TON MAPTIN BΛATOΣ KAI TH MAPIA MANOYΣAKH: BPAΔIA TZAZ.
TA BPAΔIA TZAZ ΘA ΠPAΓMATOΠOIHΘOYN ΣE ENA ΠAΛIO KTIΣMA TOY 1850 . ΔEN ΘA YΠAPXOYN KAΘIΣMATA MEΣA, ΓI'AYTO OI EΠIΣKEΠTEΣ ΘA ΠPEΠEI NA ΦEPOYN TA ΔIKA TOYΣ MAΞIΛAPIA, AN TO EΠIΘYMOYN. ENA MΠAP ΘA ΣEPBIPEI ΠOTA KAI ΣNAK.EΠIΣEIΣ TO TOΠIKO ΛAOΓPAΦIKO MOYΣEIO ΘA EINAI ANOIXTO OΛO TO BPAΔY.
TO EIΣITHPIO EINAI ΣTA € 10. YΠAPXEI XΩPOΣ ΓIA 100 ATOMA .
ΘA ΣAΣ ΠEPIMMENOYME ΣTO Vlatos Jazz!
Μέσα σ'ένα καταπράσινο και ήσυχο τοπίο με σωστό προσανατολισμό και σπάνια ακουστική ,το όλο σύνολλο που η ιστορία του ξεκινά πολλές εκατοντάδες χρόνια πριν δημιουργεί στον επισκέπτη μία αίσθηση ιδιαίτερα μαγική!
ΓIA ΠEPIΣΣOTEPEΣ ΠΛHPOΦOPIEΣ ΠAPAKAΛΩ EΠIKOINΩNHΣTE ME TON Martin Vlatos.